There are books are piled everywhere. Our local newspaper sold off their review copies and Advance Reader Copies (ARCs) and I came home with 4 boxes of books. The proceeds go toward the paper's Christmas charity project.
A stack of science fiction ARCs went to a fan I've meet via
BookThink
. Another pile of hardback with dust jacket/ stated first edition/ not ex library (the holy grail of bookselling)
Tor Press
fantasy titles are listed on Amazon. Found a ignored copy of "How I turned $1000 into a Million in Real Estate. It's one of those "books that looks like nothing" but sells for a pretty penny on Amazon. Best of all, the
ScoutPal
only folks skipped right by it - it's to old to have an ISBN. I use a combination of Scout Pal and prior knowledge when selecting books and love it when my intuition triumphs over technology. Appeals to my "so there" nature.
School is out so I have time to read so I've a stack for myself also . A book about Edwardian England. A biography about Queen Victoria, another about Henry VIII, and thick tome on the daughter's of George III.
George III

He had 15 children, most of whom lived, yet many never married or had children, which resulted in Queen Victoria ascending the throne. She had 9, all of which married and had mulitple children of their own. History is so often nothing but fateful accidents and events.
I also have
Read it and Eat
-a bookgroup cookbook. I love cookbooks you can "read".
Cooking & Books

A "Mommy Lit" book -
The Ivy Chronicles
. It's takes up where the Nanny Diaries left off.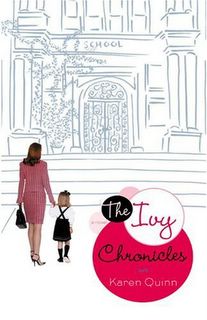 Mommy Lit

John Dunning's newest - Sign of the Book
and another book on book collecting :
A Pound of Paper: Confessions of a Book Addict
.
Back From the Land: How the Young Americans Went to Nature in the 1970s.
In that book I encountered a woman I worked with 25 years ago. We carpooled to work and I never knew she once lived on a commune. It's such a small world.
The car goes in for repair work on Monday and for once I'm not going to begrudge the time spent waiting - I have lots and lots and lots to read!
And tomorrow is a library book sale. Lets hope the riches continue to pour in.