Bloggers are forming their own communities, complete with morares and customs. I hope some sociologists are taking note. Among the latest fads zipping around the internet are memes and Five questions. Five questions are fun because you have really read someone's blog to compose the questions. Unlike memes; these are a one of kind article.
Julie of Bookworm
wrote these:
Your motorcycle ride through Europe sounded awesome; what's the worst trip you ever took?


About 6 summers ago we trailed the bike to Miami, left the kids with parents and took off to
Key West.
Mecca for the GLBT community.

Weather Channel showed a tropical depression bearing down on the keys, so we planned to get up early and head back to Miami. A oyster seeking revenge had other ideas for me and death looked like a real viable alternative. We called my folks, who drove down to get me, but by that time said tropical depression had arrived. With a vengeance. My Beloved stuck it out for a a couple of hours but cried uncle in Marathon. She left the bike and climbed in the car and we headed onward. Once we got to Miami we had to attach the trailer to our car, drive back to Marathon and load up the bike. It's a two person operation so I, who could barely stand had to load up a 800 lb Harley in the rain. That was the last time I ever ate an oyster.
How did you decide to become a school librarian -- I mean, school media specialist?

Always been a librarian, as a kid I put cards and pockets in my own books. Bluffed my way into my
present job
- my girls were attending the school and the librarian quit the day before school started. Talk about "Fools Rush In". I had to go back and get my education credits since in Texas you have to be a certified teacher to be a school librarian. By the time I finished 30 hours of education courses with the bow-heads and the displaced housewives I was both certified and certifiable.
Why do you love the Betsy Tacy books so much?

Found them at the Miami Dade Public library as a child - I loved
Lois Lenski
and was attracted by the covers, since she illustrated the first 4 books in the series. They have stood the test of time - the writing is excellent and characters are oh so real. My favorite, Emily of Deep Valley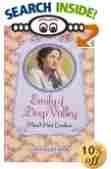 isn't technically a Besty- Tacy book, though Betsy does make a cameo appearance. All the books are based on Maud Hart Lovelace's growing up experiences in Mankato, Minn at the beginning of the 20th century. Though the books I discovered the
Betsy Tacy Society
and the listserv. And via the listserv I meet my local book sale/
E-bay
cohort and started selling used books.
I used to think "I was the only one" and once I found all the others who thought similarly it literately changed my life.
And speaking of books, what are the next few titles on your must-read list?
The Bookman series by
John Dunning
- recommended by some of the booksellers on
Bookthink.com
. Also a large stack of 2005 picture books I need to review for work.

If you could go backwards in time, what year would you visit?

Edwardian/ Victorian England - but only if I could be of "the upper classes". I would so love to meet
Sarah Crewe
and help Mary plant snowdrops in the Secret Garden. I've read enough English History to know that life was not pleasant for the poor and working class people during that time. Hey, it's my fantasy I get to specify time, place and social class!

Done! The first 5 people to leave me a comment will soon be the proud recipent of 5 questions of their own.